TROM AdvanceTROM
Advance – Postoperative Knee Brace – International Launch: May 2006
Ultimate fit, comfort and adjustability
TROM Advance's improved design takes post-operative bracing to the next level by providing the ultimate in fit, comfort and adjustability.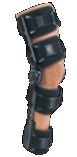 TROM Advance offers range of motion control and locking capabilities following ACL, PCL, MCL, and LCL surgeries, Meniscal repairs, Patella realignment, Regenerative Chondroplasty, Stable femoral fractures, Total Knee replacements and High Tibial Osteotomies.
· Design
° Tele-Fit: sliding mechanism allowing independent strap movement just proximal and distal of the knee:
· increased strap adjustability for better overall fit
· to accommodate cold therapy wraps and dressings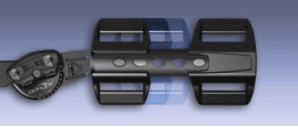 ° Streamlined hinge (20 %)
· Low profile
· Light Weight
° Telescoping adjustability: 45,1 – 59,1 cm: accommodates all patients heights
° Range of Motion Control & Quick Lock from -10º to 90º: broad range of options for any protocol.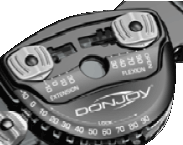 ° Quick-release buckles providing fast and easy application
° Cool, breathable soft goods for improved patient comfort and
aesthetics
° Wider straps (2") offering increased support and comfort
° XL version available to fit thigh circumferences up to 36